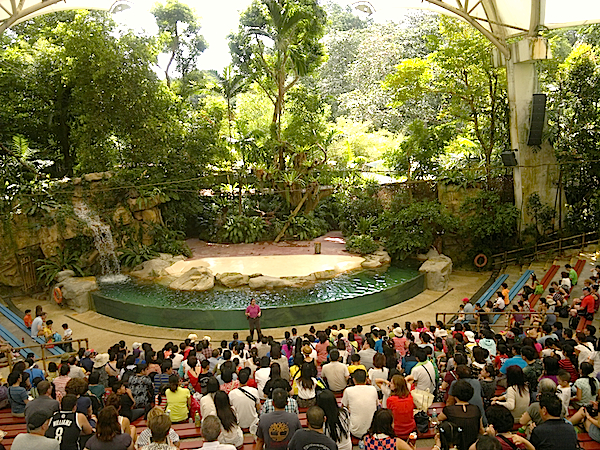 SINGAPORE — Founded in 1973 and attracting more than 1.7 million attendees annually, the Singapore Zoo is set in a rainforest environment, featuring a world-famous "open concept" design that allows visitors to experience and be inspired by the wonders of nature. Part of this stems from the facility's evolution into an open, learning zoo where, educational content designed in an interactive mode is a feature of all exhibits, and a new FBT line array installation at its large open-air venue helps convey the message with fidelity and clarity.
The Shaw Foundation Amphitheatre on the Singapore Zoo grounds hosts two presentations a day of the "Rainforest Fights Back" and "Splash Safari" shows. Both of these popular shows combine learning and entertaining aspects, with visual delights for zoo goers of all ages. However, to ensure the audio was up to the level of the spectacular sights, the engineering dept. at Italian-based FBT Audio recently worked jointly with Meditec Trader PTE Ltd. (FBT's distributor for Singapore/Malaysia) and Singapore-based integrator AV World Engineering PTE Ltd., to design and install a 16-box FBT Shadow 142L line array system at the amphitheatre.
Selected for smooth, wide response, vocal clarity and suitability to handle Singapore's extremes of heat, humidity and rain, the Shadow 142L is a full-range, long-throw system with a 14-inch woofer and two 1.4-inch HF compression drivers on a 100-degree constant directivity horn. The weatherproof enclosures also feature a molded enclosure with full UV protection and a three-layer, water-stop grill.
The main system includes: 16 FBT Shadow 142L line arrays in two main right/left hangs of six each hung via FBT's SW-F142 flying bars and two 142L enclosures on each side providing coverage to the amphitheatre's extreme edges. Also part of the package are eight link cables for the Shadow 142L's and 14 terminal connectors. Powersoft amplification rounds out the system.
For more info about FBT Audio, go to FBT.it.