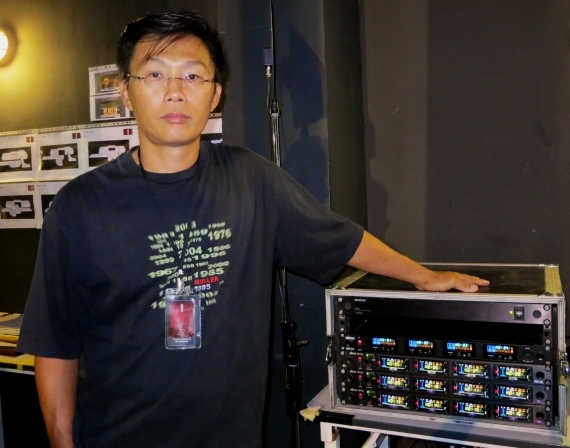 DAMA is a multiple award-winning music theatre company, well known for their exquisite blending of East-West harmonies in their musical performances. Since their inception in 1994, DAMA's music theatre and concert productions have been staged to critical acclaims both inside and outside Malaysia. They have performed in His Majesty's Theatre (Australia), Istana Budaya (Malaysia), Majestic Theatre (China), Esplanade Concert Hall (Singapore), Jubilee Hall (Singapore), MetroTV Auditorium (Indonesia) and Putra World Trade Centre (Malaysia).
DAMA's latest musical, "Butterfly Lovers" has been staged as part of Dama Orchestra's 20th Anniversary celebration. "Butterfly Lovers -The Musical", held in Kuala Lumpur Performing Arts Centre (KLPac), from 5th October 2013 to 20th October 2013, is hailed as the Chinese version of Romeo and Juliet. Its artistic director, Pun Kai Loon said: "It is a love story that could not be fulfilled and it is very much the story of Yentl (a play by Leah Napolin) and Romeo and Juliet combined." Besides adding some fresh faces and more colour to the musical, the storyline has also been given a new twist.
Mr. Hun Sang Lim, Sound Engineer, Chan Lee Sound & Light Sdn Bhd, who provided all the wireless microphone system for the musical, is happy and confident to use MIPRO's professional wireless microphone systems as he knows that he does not need to worry about RF interference issues or head-worn microphone capsule failure problems. Chan Lee Sound and Light Sdn Bhd is one of the leading rental companies in Malaysia, with the largest inventory of sound, light and ground support system, covering several high profile events and shows for major long-term clients, such as TV3, MLA Special Events, NTV7 (Who Wants To Be A Millionaire, Famili Ceria), Salem, Peter Stuyvesant, government bodies and many more.
For "Butterfly Lovers -The Musical",  Chan Lee Sound & Light Sdn Bhd provided 3 sets of MIPRO ACT-707 UHF Quad-Channel True Diversity Receiver with 12 pieces of ACT-707TM Professional Bodypack Transmitter, 1 set of MIPRO ACT-74 Wideband Quad-Channel True Diversity Receiver with 4pieces of ACT-70T Professional Bodypack Transmitter , and 16 pieces of MU-55HNS Omni-directional Headset Microphones. Mr. Hun is very pleased with the ease of programming, and agreed that ACT-707 is a good professional system for live performances. The quality of sound reproduction is superb, without the need to worry about distortion, interference and signal loss issues. The quality of the durable, lightweight magnesium body-pack transmitter not only provides long hours of usage with just 2 AA batteries, but also protects against impact damage.
"We have always recommended MIPRO professional wireless systems and supported MIPRO products for more than 10 years, and the MIPRO systems never failed us. The newly launched MIPRO ACT-74 delivers even better sound quality and performance and we will continue to recommend MIPRO products for our shows." added Mr. Hun.